Not only are eggs a cheap protein, they're very nutrient dense! Swap boring scrambled eggs for one of these recipes.
Ramen
For a cheap meal combine ramen with soft boiled eggs and your favorite vegetables. Use less than half of the flavoring packet to reduce the amount of sodium in this meal. Here's an easy recipe from Killing Thyme.
Eggs with Grits, Polenta, or Oatmeal
Add eggs to grits, polenta or oatmeal for a savory dinner or breakfast. Try this polenta with caramelized mushroom recipe from Half Baked Harvest.
Deviled Eggs
Use different flavorings like chives, avocados, everything bagel seasoning, yogurt or siracha to make not so boring deviled eggs . These sailboats from Woman's Day are a fun snack kids will love.
Egg Sandwich
Egg sandwiches can be eaten for breakfast or lunch! Consider adding light cream cheese, tomatoes, onions, bell peppers, greens, or roasted vegetables. The possibilities are endless! This sandwich from Woman's Day is packed with veggies.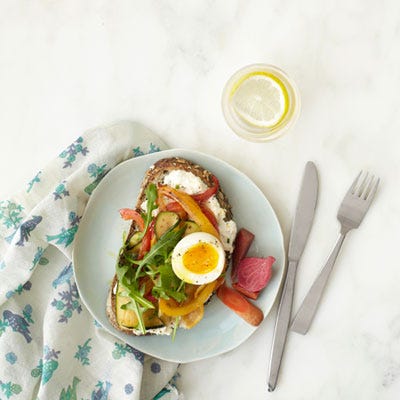 Egg, Potato, or Tuna Salad
Eggs can add creaminess to salads, without having to add lots of extra mayo. Use eggs in an egg salad, potato salad, or tuna salad .
Cobb Salad
While eggs can be used in many different salads, this mediterranean Cobb salad by Foodie Crush looks amazing!
Pizza
Forget pepperoni. Try fried egg on top of a pizza. Think a carbonara style pizza! This pizza from SkinnyMS would taste great at breakfast or dinner!
Snack
Hard boiled eggs are an easy snack you can make ahead of time. Boil them and pop them in the fridge for four days. Peel and sprinkle with salt and pepper for an easy, high- protein snack.
Fried Rice
Throw whatever vegetables you have on hand into this fried rice by Joy Food Sunshine.
Chilaquiles
So easy to make yet so tasty. Try this chilaquiles recipe by Yes, More Please.
Frittata
These mini frittatas by Recipe Rebel can be made ahead of time for an on-the-go breakfast.
Quiche
While I'm quite bland and only make broccoli, cheese quiche, there are so many ways to customize a quiche! Try mushrooms, onions, sausage, bacon, or tomatoes.
Breakfast Burrito
Make these breakfast burritos from Ambitious Kitchen and freeze them for a meal when you're low on time.
Omelette
Whether it's Japanese, Korean, Iranian, Spanish, or American Diner style, omelettes are a delicious and inexpensive meal. The Tamagoyaki recipe pictured below is from Taste Life.
Shakshouka
This North African dish is made with tomatoes, garlic, onions, and peppers. Check out this recipe from Sandra Valvassori.
Skillet
Try this pictured Zucchini Egg Skillet from Taste of Home or a Summer Egg Skillet from Pete and Gerry's.
Quesadilla
Top this quesadilla from The Perfect Pantry with pico de gallo.
Soup
This Egg Drop Soup by Mommy Musings and Winter Kale and Egg Soup from Pete and Gerry's are great uses of eggs when the weather starts to cool down.
Roasted
Check out this pictured Baked Eggs with Roasted Vegetables by Salu Salo Recipes and Roasted Brussel Sprouts with Jammy Eggs by Pete and Gerry's.
Donburi
This Broccoli Carrot Donburi with a Fried Egg by HelloFresh looks amazing!